SKINVIVE Glow Treatment by Juvederm
SKINVIVE™ by JUVÉDERM® is the first and only FDA-approved hyaluronic acid (HA) microdroplet injectable in the US to improve skin smoothness of the cheeks. This product increases hydration to improve skin smoothness and provide a lasting glow for up to 6 months with optimal treatment. Also, in a clinical study, patients treated with SKINVIVE™ reported higher satisfaction with how glowing, hydrated, refreshed, and healthy their skin looked*.
RHA® Collection
The RHA collection is an award winning, FDA-approved hyaluronic acid filler for dynamic wrinkles and folds. Your face makes millions of movements each and every day, and these movements result in wrinkles and folds. Dermal fillers used to treat these folds may cause the area to appear stiff or unnatural when the face moves. The RHA Collection is designed to be resilient enough to adjust to your specific facial movements to result in a more natural look both at rest and while in motion. How Long Do RHA® Fillers Last? Unlike other fillers, RHA® lasts for approximately 9 to 18 months.
Certified and Trained Nurses In Juvederm, Restylane, and RHA

Juvederm & Restylane
As you age, it's not just about lines and wrinkles. Your cheeks can lose volume and skin may begin to sag. JUVÉDERM VOLUMA® XC is the first FDA-approved injectable gel to instantly add volume to your cheek area to correct age-related volume loss in adults over the age of 21. It can provide you contour and a subtle lift for up to two years with optimal treatment.
Certified and Trained Nurses In Juvederm, Restylane, and RHA

Juvederm XC , Juvederm Voluma, and Juvederm Volux
Juvederm XC- is a Hyaluronic acid natural substance found in the human body designed to smooth wrinkles, sculpt lips and shape facial contours. It carries little risk of allergic reaction. The most common areas for treatment are the glabellar lines (between the eyebrows) and the nasolabial folds (from the root of the nose to the angle of your mouth). With its unique ability to bind with water, the filler remains in your skin for many months. Everyone's skin ages differently and JUVÉDERM® XC may be used to rejuvenate multiple problem areas.* From smile lines to vertical lip lines, you can smooth away unwanted wrinkles and restore natural contours.
Juvederm Voluma- As you age, the cheeks may flatten and the skin may begin to sag. This is caused by natural loss of volume in the cheek area, or what the experts call age-related mid-face volume loss. Designed to add volume beneath the skin's surface, which provides lift and contour to the cheek area. Minimum two syringes recommended.
Juvederm Volux XC-  First hyaluronic acid-based dermal filler specifically formulated and approved for use in the jawline and chin.  Minimum two syringes recommended.
Juvederm lasts up to 12 months. To find out if Juvederm is right for you, contact us today to schedule a consultation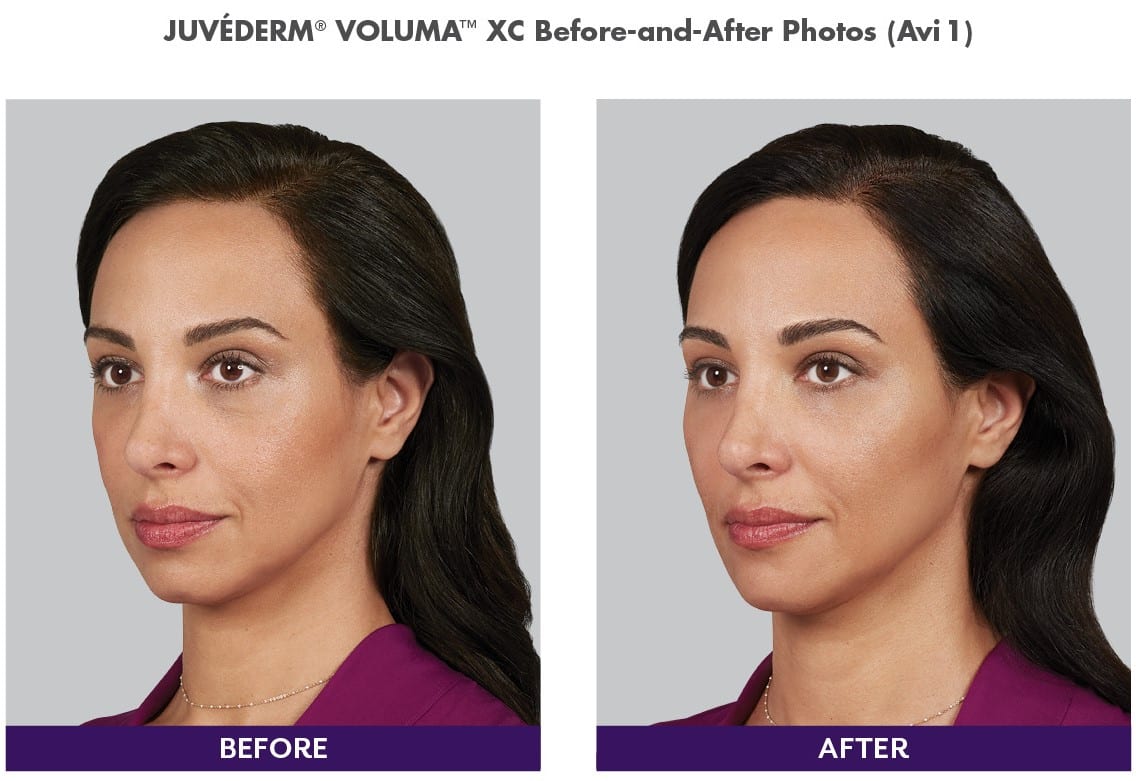 Restylane
Restylane Contour – This filler is designed for natural-looking results in the chin and jawline.
Restylane Defyne – Defyne is a dermal filler that helps smooth away deep "laugh lines", as well as enhance chin projection.
Restylane Kysse – Longer Lasting For lip enhancement, lip lines, and mouth area.  Lips with natural-looking volume and Kysse-able softness Restylane Kysse is the first lip filler designed with XpresHAn Technology™ for flexible movement and natural-looking volume proven to last for up to 1 year. Enhance texture and color of the lips while maintaining a full range of expressions.
Restylane Lyft – Restylane Lyft is a safe, effective, and dissolvable filler that is used to improve volume in the cheek and midface.
Learn how Juvederm Restylane, and RHA Fillers can help you achieve your aesthetic goals by contacting our office today!